CANDIDATES
WOMEN OF COLOR BREAKING BARRIERS
Inspiring Leaders
Representation Matters is honored to support progressive Democratic women of color running for elected office across the country. The candidates Representation Matters features are passionate, courageous, determined and inspiring leaders who have compelling stories of overcoming challenges and breaking barriers. Their unique experiences and perspectives need to be heard at every level of government to shape effective policy. They are all committed to fighting for reproductive justice, racial justice, voting rights, environmental protection, and all that we value. They are the hope for a representative democracy and our future. #2021-candidates
Support Women of Color Candidates Now
Supporting women of color candidates is critical to ensuring we have a reflective democracy. Help level the playing field by supporting our featured candidates now. CONTRIBUTE HERE.
Angela Alsobrooks
(Prince George's Cty, MD)
CONTRIBUTE
Rep. Lisa Blunt Rochester
(DE-At-large)
CONTRIBUTE
Representative Barbara Lee (CA-12)
(CA-12)
Congresswoman Barbara Lee is a progressive icon who has been a trailblazer in life and her career. She has fought against racism and discrimination and for underserved communities her entire life.
When her majority-white school district told her she couldn't join the high school cheer squad because she was Black, she joined the San Fernando NAACP, sued them in court and won the right to be the district's first Black cheerleader — and opened the door for thousands of other Black girls. As a single mother on public assistance, Barbara attended Mills College, bringing her two young sons with her to campus and was elected president of the Black Student Union.
Barbara earned a master's degree in social work from UC Berkeley and started a community organization to bring mental health services to the underserved in the East Bay. She worked her way from intern to chief of staff for legendary Congressman Ron Dellums and was one of the first Black women to hold a senior position on Capitol Hill.
She has been leading the progressive charge before others began calling themselves progressives. She is the author of every major piece of HIV/AIDS legislation in Congress, fought to lift people out of poverty by expanding SNAP benefits, investing in child care, and expanding Earned Income Tax Credit and the Child Tax Credit, and she was the lone courageous vote against the Authorization for Use of Military Force that authorized the war in Afghanistan.
For Barbara, the issues she fights for are personal. She's lived them, which makes her the most authentic candidate for any office in any state. That's why people throughout the Bay Area, California, and the nation say: Barbara Lee Speaks for Me
CONTRIBUTE
Hold the House
REP. YADIRA CARAVEO
(CO-08)
Dr. Yadira Caraveo has been a member of the Colorado State House of Representatives since 2019. She is a pediatrician and a staunch advocate for children. As a result of her tireless work, Yadira has become the go-to expert for public health and health care legislation in local Colorado politics. She was named a Champion of Change by President Obama for her work with the Union of Concerned Scientists enlisting doctors across the country in the fight against climate change. In Congress, Yadira will continue her commitment to fight for lower health care costs, address the high cost of housing, combat climate change, and fight for reproductive justice and voting rights.
Yadira is running in a newly created Congressional district in Colorado, which is split evenly 50-50 between Democrats and Republicans – a true toss-up. It has the highest percentage of Hispanics of any district in Colorado. Outreach and persuasion are critical for her campaign, as 45% of the registered voters are unaffiliated or independent. Yadira's Republican opponent is a self-described "Conservative Fighter," who is anti-choice, pro-guns, and against government efforts to combat Global warming. Yadira is on the DCCC Red to Blue list, and this will be a competitive race, with Republicans pouring significant funds into winning this seat. This is a prime pick-up opportunity for Democrats, and with our support, Yadira will ensure that CO-08 goes blues. If elected, Yadira will be the first Latina and the first physician to represent Colorado in the House.
Congresswoman Sharice Davids
(KS-03)
Rep. Sharice Davids represents Kansas' 3rd Congressional District after successfully unseating a four-term Republican incumbent in November 2018, flipping KS-03 blue. Sharice is a member of the Ho Chunk Nation, and one of the first two Native American women elected to Congress. She is also the first openly LGBTQ member of Congress from Kansas. Sharice is the first woman to serve as Vice Chair of the Committee on Transportation and Infrastructure and is Chair of the Small Business Subcommittee on Economic Growth, Tax and Capital Access. She also serves on the Committee on Agriculture, the Joint Economic Committee, and House Steering and Policy Committee, and is the Regional Whip. Sharice is a proud Kansan who was raised by a single mother, who is an U.S. Army veteran and recently retired U.S. Postal Service employee. After graduating from Leavenworth High School, she was the first person in her family to attend college, working her way from Johnson County Community College to Cornell Law School. She wants others to have the same opportunities to achieve their goals. That is why she has focused her career, including serving as an Obama White House Fellow, on bringing more opportunities to working families. Sharice has centered her work in office on tackling the issues most important to Kansas families, including strengthening public schools, lowering the cost of healthcare and prescription drugs, and making sure the government is working for the people – not special interests.
Sharice spent $5.3 million to hold this seat in 2020, and now faces another tough reelection, with the NRCC pouring millions into the midterms to win this seat back. She is on the DCCC Frontline, and we must do everything we can to ensure she has the resources necessary to keep KS-03 blue.
Congresswoman Jahana Hayes
(CT-05)
Rep. Jahana Hayes was elected in November 2018 to represent Connecticut's 5th Congressional District. She is the first African-American woman and the first African-American Democrat to represent the state of Connecticut in Congress. Jahana's story is one of achievement despite the odds and overcoming the obstacles that so many people face. She grew up in a housing project in Waterbury, in the cycle of poverty and addiction, and became pregnant at 17. While supporting her young family, she enrolled in Community College, and then went on to earn a four-year degree and two advanced degrees. She became a high school teacher in the same town where she grew up. Jahana first garnered widespread recognition when she was selected as the Connecticut Teacher of the Year, and then was named by President Obama as National Teacher of the Year in 2016. She currently sits on the House Committees on Education and Labor, and Agriculture, where she is Chairwoman of the Subcommittee on Nutrition, Oversight and Department Operations. She played a pivotal role in drafting the American Rescue Plan. Her areas of legislative focus are equitable access to quality education, affordable health care for everyone, labor, agriculture, and the environment. Additional priority areas include: immigration reform, gun violence prevention, veteran issues, social justice, transportation, and working in a bipartisan way to bring positive change to the lives of every person in the community. Jahana faced a barrage of racist hate speech in a virtual town hall in October 2020, and has been outspoken about the experience and the need to address racism and hate in order to heal our nation.
CT-05 was historically red and the NRCC has made this seat a top target for 2022. Jahana spent $1.6 million to hold her seat in 2020 and will need considerable more to fend off their attacks. She is on the DCCC Frontline and it is critical that we ensure she has the resources necessary to keep CT-05 blue.
Teresa Leger Fernandez
(NM-03)
Rep. Teresa Leger Fernandez was elected to Congress in 2020 to represent New Mexico's 3rd District. She is a 17th generation New Mexican, and the first woman and first Latina to represent her district. Prior to her election she was an attorney and advocate, winning significant legal battles to advance voting rights, promote tribal sovereignty, and protect our environment and our acequia waters. She helped secure nearly a billion dollars for, and then helped build, schools, rural health clinics, broadband, businesses, affordable housing and critical infrastructure. Teresa serves on the House Committees on Natural Resources, Education and Labor, and the Committee on House Administration, and Chairs the Subcommittee for Indigenous Peoples of the United States. She serves in the leadership of the Congressional Hispanic and Progressive Caucuses.
As a result of redistricting, Teresa's district incorporated more conservatives, and Republicans see it as a top pick-up opportunity. Teresa was recently added to the DCCC Frontline, and this is a must-hold seat to protect our Democratic Senate majority.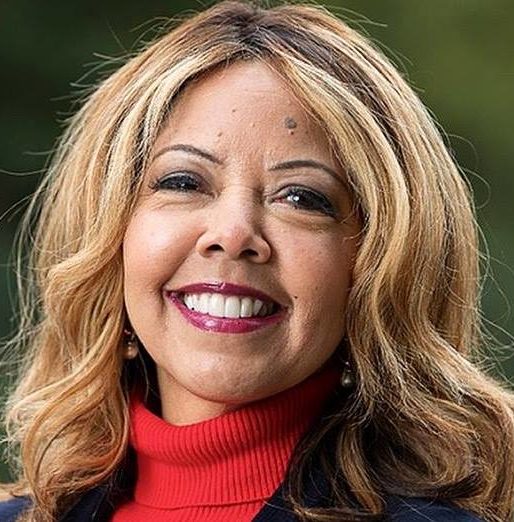 Congresswoman Lucy McBath
(GA-07)
Rep. Lucy McBath was elected to Congress in 2018 to represent Georgia's 6th Congressional District. In 2012, Lucy's son Jordan Davis was senselessly shot and killed at a gas station in Jacksonville, Florida by a man objecting to the music Jordan was playing in his car. Lucy left her 30-year long career working for Delta Airlines for her second career focused on reform to make our communities safer for every single American. She traveled throughout the country, demanding that the clergy, our politicians, and other elected leaders do more to stop the senseless gun violence in America. After the tragic shooting in Parkland, Florida Lucy watched as politicians of all parties promised to take action, yet nothing came. Lucy decided that if our leaders would not change our laws to save lives, she would stand up and run for office herself. She ran against an NRA-backed incumbent, won by 1.5 points, and now holds the seat once held by Newt Gingrich. Lucy's work in Congress has been focused on working across the aisle and passing laws to help our children and families. As a two-time breast cancer survivor, she is personally invested in quality health care for all. She introduced and helped pass the Pandemic Health Care Improvement Act that expands the Affordable Care Act coverage. She has worked on numerous pieces of house-passed legislation, including universal background checks for all gun sales and Red Flag Laws to limit access to firearms for those who are potentially dangerous, and sponsored legislation protecting our veterans which was signed into law. She serves on the House Committee on the Judiciary and the House Committee on Education and Labor. She is also the Vice Chair of the Gun Violence Prevention Task Force.
Lucy was targeted by Republicans during redistricting, and as a result she is now running in Georgia's newly drawn 7th district, where she won the Democratic nomination in a competitive race. Republicans are doing everything they can to take this seat and the House majority. Lucy is a champion with a unique voice in Congress and we need to ensure she wins her reelection.
Congresswoman Mary Peltola
(AK-AL)
Mary Sattler Peltola is a Yup'ik Eskimo, salmon advocate, and Democrat who represented the Bethel region in the Alaska House of Representatives for 10 years. As a lawmaker, Mary helped rebuild the Bush Caucus that improved lives in rural Alaska under her tenure as Chair. As Executive Director of the Kuskokwim River Inter-Tribal Fish Commission, she helped mobilize 118 Tribes and rural Alaskans to advocate for the protection of salmon runs in Western Alaska. Mary served on the Orutsararmiut Native Council Tribal Court and the Bethel City Council. Mary was raised on the Kuskokwim River in Kwethluk, Tuntutuliak, Platinum, and Bethel. She began fishing commercially with her father when she was six years old.
Mary recently stunned Alaska and the whole country when she defeated Sarah Palin and a host of others in the special election to serve the remaining term of Alaska's sole congressional seat. Rep. Peltola is the first Alaska Native and the first woman from Alaska to ever serve in Congress, and she is the first Democrat to hold this seat in half a century. She is now running for a full term in Congress, again against Sarah Palin and others, and it is critical that Democrats hold this seat.
Rep. Marie Gluesenkamp Perez
(WA-03)
Rep. Andrea Salinas
(OR-06)
Andrea Salinas is a working mom, longtime community advocate and state representative. She is the daughter of a Mexican immigrant and saw the strength and sacrifices her own parents made to pave a stronger path for her and her sister. She felt that same determination when her daughter, Amelia, was born 17 years ago, and she has been fighting for a strong Oregon ever since. Since joining the Oregon House in 2017 and quickly ascending into House leadership, Andrea has been a champion for women and working families, fighting for – and winning – protection for women janitors who were being abused by their employers, and passing some of the nation's most transparent drug pricing laws so families aren't choosing between food and prescription drugs, along with laws curbing carbon pollution and phasing out dirty coal, and the strongest reproductive rights law in the country.
Andrea is on the DCCC Red to Blue list and is running for a newly drawn Congressional District with a slight edge in terms of Democratic voter registration. This is a prime pick-up opportunity for Democrats. She is running against a wealthy Republican businessman and anti-choice, anti-environment opponent, and the GOP is investing strongly in this race. With our support, Andrea will help expand our Democratic House majority. If elected, Andrea will be the first Latina member of Congress from Oregon.
Rep. Emilia Sykes
(OH-13)
Emilia Sykes was born and raised in Akron, Ohio, and grew up on the city's west side. She graduated with high honors from Kent State University with a B.A. in Psychology and later went on to the University of Florida, where she earned a Juris Doctor with a Certificate in Family Law and a Master of Public Health. Emilia currently serves as a State Representative in Ohio's 34th legislative district, otherwise known as the "birthplace of champions," where she's served since 2014. She recently finished four years in Democratic leadership, including two years as the House Minority Leader, and is now running for the United States Congress in Ohio's 13th Congressional District to fight for economic opportunity and affordable healthcare for Northeast Ohio, and for bipartisan cooperation to actually get things done. During her first year as the Leader of the House Democratic caucus, despite serving in the minority, the percentage of bipartisan bills passed was nearly double each of the previous four years combined. Emilia has received numerous awards for her advocacy, including the EMILY's List national Rising Star award, Legislator of the Year from the Ohio Minority Business Enterprise, the Champion for Children award from Summit Children's Services, and 30 for the Future award from the Greater Akron Chamber of Commerce.
Emilia is on the DCCC Red to Blue list, and is running in a newly drawn Congressional District. Her Republican opponent is a frequent Fox News commentator and a spokesperson, surrogate, and advisor to Trump. The GOP will be investing heavily in this race and will fight hard to win this seat. This is a prime pick-up opportunity and a must-win seat to maintain Democratic control of the House. Emilia is working tirelessly to bring new leadership to this district, and has the courage and experience to do what it takes to win and be a strong voice in Congress.
Congresswoman Lauren Underwood
(IL-14)
Rep. Lauren Underwood represents Illinois' 14th Congressional District, a suburban, exurban, and rural district west of Chicago. She flipped this seat from red to blue in 2018, defeating a 4-term Republican incumbent, and in 2020 became the first Democrat to ever be reelected in IL-14. Lauren is the first woman, the first person of color, and the first millennial to serve this district, and the youngest Black woman to serve in Congress. As a registered nurse and healthcare expert, she brings a critical perspective to Congress. Prior to her election, Lauren spent her career implementing the ACA and was appointed by President Obama to serve as a Senior Advisor at the Department of Health and Human Services, where she helped communities prevent, prepare for, and respond to disasters, bioterrorism threats, and public health emergencies. Lauren has proven herself to be a hard worker and an effective leader for her community. She has had 8 pieces of legislation enacted into law by both Democratic and Republican administrations. Lauren serves on the House Committee on Veterans' Affairs, and the House Committee on Appropriations. She co-founded and co-chairs the Black Maternal Health Caucus, which elevates the Black maternal health crisis within Congress and advances policy solutions to improve maternal health outcomes and end disparities.
When Lauren flipped this seat in 2018, she was considered a longshot. She spent $7.4 million to hold her seat in 2020, and won by just over 5,000 votes – one of the closest races in the country. Lauren is on the DCCC Frontline and is a top Republican target in 2022. Her seat is a must-win to hold our House majority.
Build the House
Michelle Vallejo
(TX-15)
Michelle Vallejo is a small business owner, community leader, and the people-powered candidate South Texans need to bring their voices to Washington. Michelle was born and raised in the Rio Grande Valley and comes from a family of farm workers, immigrants, and entrepreneurs. Her family has run Pulga Los Portales, a local flea market and community hub, for nearly 25 years, and she now runs the business with her dad. When Michelle was a student at Columbia University, tragedy struck when her mother passed away following a 15-year-long battle with multiple sclerosis. Now, Michelle Vallejo is honoring her mother's legacy by fighting for a better future for all Texas families as a candidate for Congress in TX-15.
Michelle was enlisted to run for this seat by LUPE, a prominent non-profit community organization. She came in second against multiple Democrats running in the primary, and then went on to win the runoff by just 30 votes. Michelle is a long time community activist, and is now taking on a Trump endorsed Republican. TX-15 has sent a Democrat to Congress every single election since it was created in 1902. Republicans targeted this district specifically when redrawing the new congressional maps. Michelle is featured on the DCCC Red-to-Blue list, and this is a must win seat in a newly redrawn district.
Archive: See candidates we supported in 2022
See candidates we supported in 2020
ABOUT
Representation Matters is committed to changing the face of power by standing with and supporting progressive Black women and women of color candidates running for elected office.